Presented By Bank of America
Axios AM
By Mike Allen

·

Jan 16, 2017
Good Monday morning! Martin Luther King Jr. Day is a perfect time to reflect on historic days for our country, as we head into Inauguration Week. It's three days and a wake-up till President Trump.
For the past week, we have been publishing beta versions of Axios AM and our two sibling newsletters — David Nather's "Vitals," on Obamacare; and Dan Primack's "Pro Rata," on deals and dealmakers. On Wednesday, we'll flip the switch and you'll see all of Axios from our 50 colleagues, including "the Axios stream."
For now, make sure all your friends and co-workers hit this one-click sign-up to join our breakfast conversation here at Axios AM.
​The 1 thing: Trump's first week
Trump's aides tell me one word sums up their mentality this week: "action," as in lots of interviews, new policy ideas, tweets and showdowns with critics. A trio of meaty interviews with Trump popped last night, all signaling that he relishes the fights ahead.
In a phone interview with the WashPost's Bob Costa, Trump said he is "nearing completion of a plan to replace [Obamacare] with the goal of 'insurance for everybody,' while also vowing to force drug companies to negotiate directly with the government on prices in Medicare and Medicaid."
Amping up a fight he picked at his press conference last week, Trump said pharmaceutical companies are "politically protected, but not anymore."
Reading between the lines: "Insurance for everybody" likely means universal ACCESS, as opposed to universal coverage. A colleague emails: "[H]e is doubling down on government intervention on drug prices. … Expect a massive lobbying deployment on this front."
Costa, whose channeling of Trump is worth paying attention to, gave some helpful insight in a pair of tweets after his story posted: "Trump told me he has been following coverage of ACA/Dems/critics closely. Prompted him to finalize a plan for broader access, post repeal. … Trump's political antenna is key here. Senses D criticism on lost coverage, so he's making broad access central + populist fight w Pharma."
Axios Sneak Peek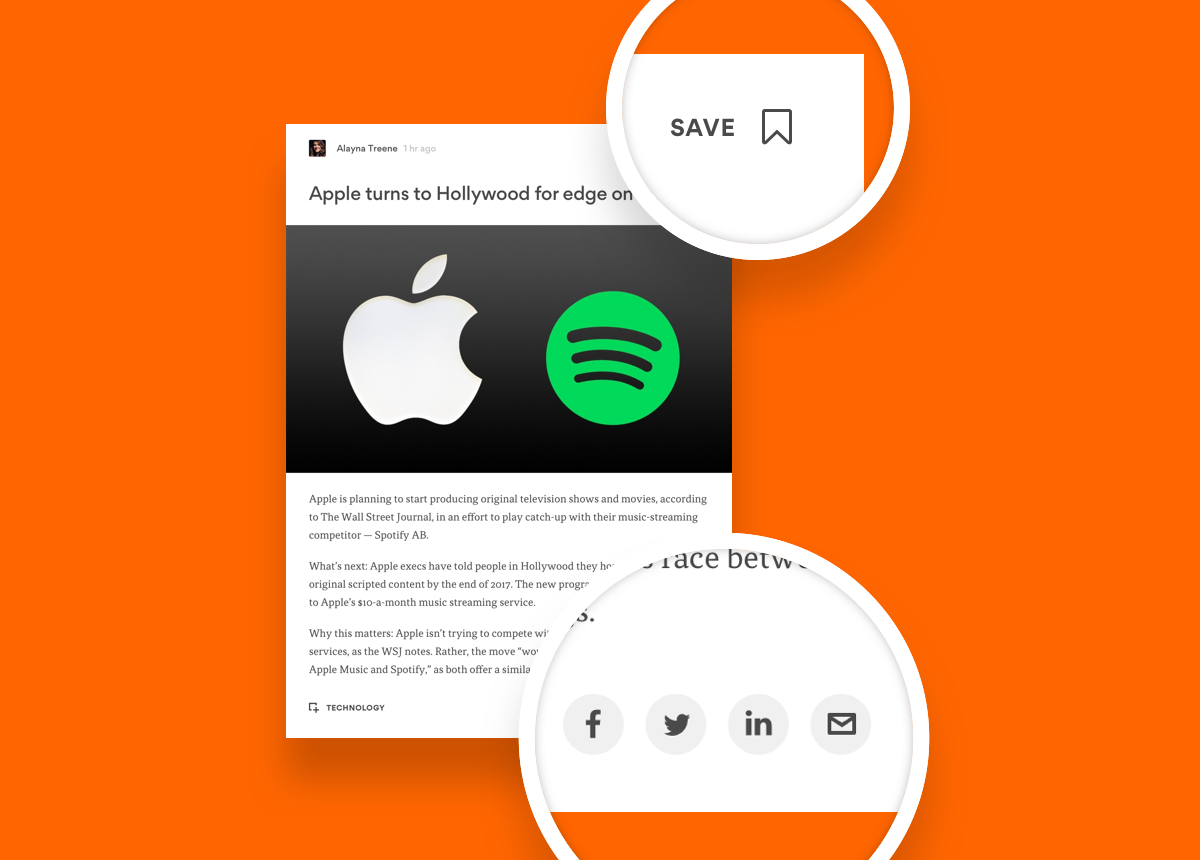 Every item summarized in one shareable, saveable screen
​2. Trump calls NATO "obsolete"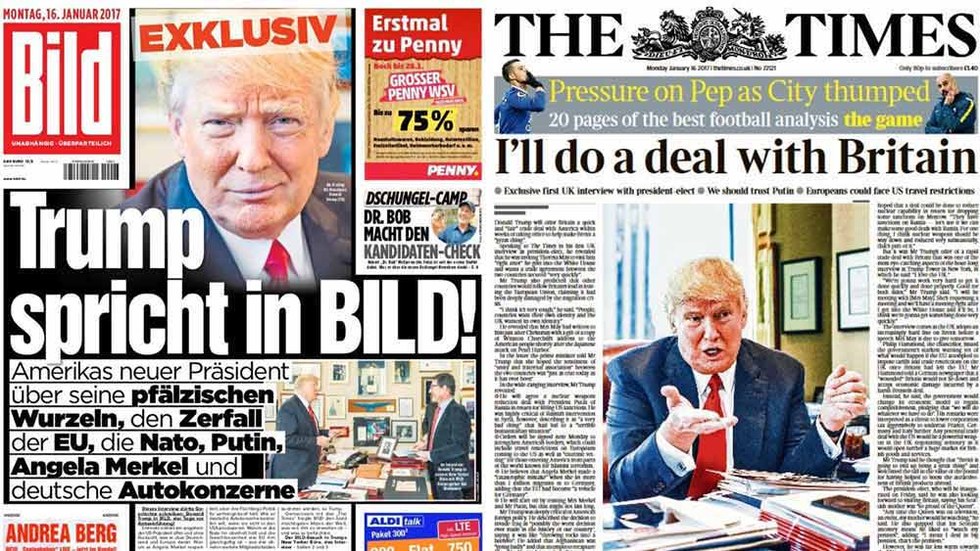 As if that weren't enough, Trump made huge news in his two interviews across the pond. To Bild, a populist German tabloid that's the largest newspaper in Europe, he said NATO is "obsolete, first because it was designed many, many years ago … Secondly, countries aren't paying what they should … [and NATO] didn't deal with terrorism." Bloomberg points out that the comments put him "fundamentally at odds with German Chancellor Angela Merkel," who faces populist headwinds in her bid for reelection this year.

Online reaction: Ivo Daalder, a former U.S. ambassador to NATO, tweets (and Jeffrey Goldberg retweets): "Trump is more critical of NATO, EU, & Germany--all close allies--than he's ever been of Putin & Russia. We're entering an upside down world."
Trump told The Times of London, a Rupert Murdoch paper, that orders will be signed next Monday to strengthen America's borders, which could include ­travel restrictions on Europeans coming to the US as well as "extreme vetting" for those entering America from parts of the world known for Islamist terrorism. That's Day 4 of his presidency, which we're told will be a huge day. Trump is leaning into the pomp and circumstance of the inauguration, and has told staff to let everyone enjoy the party and have a good time: Monday morning we get to work.
​3. Snapchat grows up
Snapchat, which has said nothing official about its plans to go public, has scheduled an employee Q&A session for Thursday, Axios' Dan Primack scoops. This'll be the first chance for the rank and file to ask about Snap's initial public offering — expected in the next few months, and sure to be one of the big, exciting deals of the year.
Snapchat has quickly become one of the most powerful platforms in media, with 150 million daily active users, two-thirds of whom create content each day. Snapchatters watch 10 billion videos a day, and Nielsen says Snapchat reaches 41% of 18-34-year-olds in the U.S.
Despite those muscular metrics, Snapchat will have to work to convince investors that it's a durable business, not a fad. Snap Inc.'s business side was slow to catch up with the phenomenon, but the company has taken a rapid-fire series of steps to reassure the investors it will soon be courting:
An updated app was rolled out last week, aimed at making it easier to understand how Snapchat works.
Snapchat is beefing up metrics to try to prove more clearly to advertisers that ads work, and adding professional content, including ABC Disney's "Watch Party: The Bachelor" and ESPN's "College Game Day."
Michael Lynton said Friday he is stepping down as CEO of Sony Entertainment to be Snap Inc.'s full-time board chairman. Lynton, 57, is more than twice as old as CEO Evan Spiegel, adding seasoning and maturity to the leadership team.
Rick Stengel, the former top editor of TIME and Obama's Under Secretary of State for Public Diplomacy, has joined Snap as a senior adviser.
Scoop … Facebook adds a well-known operative: Tucker Bounds — co-founder of Sidewire, the online conversation platform — is stepping away from his operational role and returning to Facebook, where he was director of corporate communications from 2011 to 2014. Tucker, who'll keep his seat on the Sidewise board, starts Jan. 30 as Communications Director, focused on product communications, specifically on News Feed.
A Message From Bank of America
Responsible Growth Helps Build Strong Communities
Bank of America's Responsible Growth strategy includes investing in the economic growth of the thousands of communities we call home. Across the country, we work with more than 240 community lenders and organizations to provide more than $1 billion in lending through CDFIs. These partnerships and the increase in small business lending are making a difference in communities throughout America, like Grand Rapids, Michigan, where we saw an 18% increase in small business loans over the last year.
Responsible Growth means doing our part to invest in and strengthen communities across the country. Read more.
​4. Amazing stat
Oxfam, the anti-poverty group, found a clever way to quantify the .01%, in a report timed for tomorrow's opening of Davos: Eight men own half the world's wealth. The billionaires named in the report, who together have the same wealth as 3.6 billion people, are: 1) Microsoft founder Bill Gates; 2) Spain's Amancio Ortega, founder of Inditex fashion (Zara); 3) Warren Buffett; 4) Mexico's Carlos Slim; 5) Amazon's Jeff Bezos; 6) Facebook's Mark Zuckerberg; 7) Oracle's Larry Ellison; and 8) former New York City mayor Michael Bloomberg.
Trump's troika could frame this Reuters preview story, "Davos elites struggle for answers as Trump era dawns": "Beneath the veneer of optimism over the economic outlook lurks acute anxiety about an increasingly toxic political climate … Trump is the poster child for a new strain of populism that is spreading across the developed world … With elections looming in the Netherlands, France, Germany, and possibly Italy, this year, the nervousness among Davos attendees is palpable."
​5. Trump rattles press corps
Sean Spicer, the incoming White House press secretary, met for two hours yesterday with Reuter's Jeff Mason, the president of the White House Correspondents' Association, over plans to move the daily briefings out of the West Wing to the Eisenhower Executive Office Building, still within the White House complex. The Trump team says this is merely to accommodate more seats (150 seats vs. 49), while members of the press corps worry this is a step toward further insulating aides from contact with journalists.

Sounds like everything is off to a great start! Jeff said last night in an email to the membership: "Sean expressed concern that journalists adhere to a high level of decorum at press briefings and press conferences. I made clear that the WHCA would object, always, to a reporter being thrown out of a briefing or press conference."
Dee Dee Myers, press secretary to President Bill Clinton, emails me: "Batten down the hatches. Changes are coming, and there's nothing the [White House Correspondents' Association] can do to stop it. … No knock against WHCA — it's just that Trump is willing to burn the village in order to save it."
Margaret Sullivan warns in her media column, leading the WashPost Style section: "Journalists are in for the fight of their lives. And they are going to have to be better than ever before, just to do their jobs.They will need to work together, be prepared for legal persecution, toughen up for punishing attacks and figure out new ways to uncover and present the truth."
6. Obama's 1 request of Trump
Obama to Steve Kroft, on "60 Minutes," discussing his successor: "I think everybody has to acknowledge: Don't underestimate the guy, because he's going to be 45th president of the United States. The one thing I've said to him directly, and I would advise my Republican friends in Congress and supporters around the country, is just make sure that, as we go forward: Certain norms, certain institutional traditions don't get eroded, because there's a reason they're in place."
Steve Kroft has interviewed Obama 17 times, for a total of 30 to 40 hours, over the past decade. In this retrospective, he and "60 Minutes" executive producer Jeff Fager reflect on the run. As Obama walked into the State Dining Room last week, he said: ""Steve Kroft! … [W]e're just going to keep doing this until we get it right."
Tonight at 11, MSNBC has a one-hour special with Brian Williams, "The Obama Years," including interviews with former Republican leader Eric Cantor; Rep. John Lewis; historians Michael Beschloss and Hasan Kwame Jeffries; and Obama alumni Adam Frankel, David Litt, David Plouffe and Tommy Vietor.
​7. John Lewis books sell out
Two of John Lewis' books — his graphic novel trilogy, "March" and his 2015 memoir, "Walking With the Wind" — sold out on Amazon after he attacked Trump, who retaliated on Twitter. AP reports: "Support for Lewis among Democrats sent sales of his most popular books soaring late Saturday and early Sunday. … 'March" trilogy' ranked no. 1 on Amazon, and its individual volumes also charted high. 'Walking with the Wind: A Memoir of the Movement' ranked number two." Both are now "Temporarily out of stock."

The fallout from Trump's tweets is the lead story of the N.Y. Times: "IN TRUMP TWEETS, BLACKS PERCEIVE A CALLOUS RIVAL: SOME TO SKIP INAUGURAL — Democrats' Fury Builds as Civil Rights Icon Is Denigrated."
8. Laura Ingraham may run
The "queen of conservative talk radio" may challenge Sen. Tim Kaine (D-Va.) for reelection next year, per Paul Bedard: "[S]everal party insiders have approached [her] to run and … she is considering it … [H]er business partner, Peter Anthony, has begun buying website domains … ingrahamsenate.net, ingrahamsenate.com, ingrahamforvirginia.com and ingraham2018."
The inside take: I'd bet on this happening. Laura's thinking has been moving from talking about the news to being it. She's not just been a booster of Trump, she's been an adviser — and was seriously considered for White House press secretary. She was a successful speaker at the Republican National Convention — the Video of the Day on her website was "Laura Ingraham brings down the house." Both of those experiences were a rush for her. She's getting the taste for power — and a radio show and Fox hits may not be enough, long-term.
9. Tops in business
The markets are obsessed (pound tanks) with British Prime Minister Theresa May's plans, revealed over the weekend, for a "hard Brexit," or full divorce from the European Union. That got a hearty endorsement from Trump in his Times of London interview, saying it would "end up as a great thing." May gives a speech tomorrow calling for "a truly global Britain."
The prime minister is headed to Davos, while Merkel sits it out.
Irony watch: All the reports and chats among rich globalists center around nationalism and inequality.
10. 1 fun thing ...
… for the left: BuzzFeed senior culture writer Anne Helen Petersen argues that "Patriots Day" — the new Mark Wahlberg superhero film about the Boston Marathon bombing — is "The First Movie Of Trump's America": "the normalization of totalitarianism and anti-intellectualism, a return to the delineation of global politics into camps of right and wrong, patriot and terrorist, winners and losers, and an impulse to flatten and otherwise ignore reality in the name of feeling good and guiltless." https://www.buzzfeed.com/annehelenpetersen/patriot...

… for the right: "Trump's Celebrity-Free Inauguration Is Great for America," Charlie Peters writes for National Review: "As conservatives, we prefer the executive to govern in a restrained and grounded manner, not rule under the impression of regality. … Rampant celebration of a new leader threatens to dilute this value and allow new presidents to consider themselves as something more than servants of the people."
WHAT'D I MISS? Please reply to this email with your links, leak, rants, suggestions. And get your friends to sign up!
A Message From Bank of America
Bank of America's Responsible Growth Strategy Is Making a Difference
At Bank of America, we have a responsibility to grow by improving our customers' financial lives and having a positive, lasting impact on our communities. We call this Responsible Growth and it's making a difference. From being the leader in clean energy financing to increasing our small business loans by 12% year over year, we are driving the economy in real and sustainable ways while creating value for our customers and our communities. Read more.
Axios, 3100 Clarendon B‌lvd, Suite 200, Arlington VA 22201
Like what you see?
Sign up now to get Axios in your inbox.
Share this newsletter: