Presented By Bank of America
Axios AM
By Mike Allen

·

Jan 17, 2017
Good Tuesday morning! After a week of beta editions of our three newsletters, tomorrow is the launch of the Axios stream — our innovative platform for bringing you the smartest, most efficient and trustworthy coverage of business, tech, media trends and politics. Point your friends and colleagues here for an easy, one-click sign-up to join the Axios AM breakfast conversation.

The 1 thing: Mnuchin's stiff prep
Lots of juicy news and gossip swirling around Trump Tower:
Transition officials tell us they are worried about Steven Mnuchin's readiness for his Thursday confirmation hearing to run Treasury. In early prep sessions, he came off as uneven and stiff, so extra people were brought in to help get him ready. (One spy at the transition office told me that all the suits surrounding a conference table during one of Mnuchin's prep sessions made it look like a Fortune 500 board meeting.) And some insiders worry about how he'd react to demonstrators. Democrats hope to derail at least one pick, and Mnuchin still tops the list. Insiders weren't thrilled when he leaked word of his selection and then went on CNBC to talk about it. So it'll be interesting to see how hard Trump fights for this one, if needed.
Trump has done a dry run of his inaugural address with teleprompter and presidential podium, flown to New York for his rehearsals.
The latest draft has more edge than is customary. But one official said he'll reprise his election-night promise to be "president for all Americans" — even those who did not (and still don't) support him.
And look for a big-shout to "America first."
The current thinking among Trump insiders on the order of action is: health care repeal first, with a framework for replacing it; tax reform second, using an infrastructure plan as a sweetener to get win Democrats, making that third. The wall is a budget item that goes near the front of the chute.
Trump goes short, simple, low-key:
We hear his inaugural address will be shorter than average.
Trump will hit just three Inaugural balls — Bill Clinton did 14! - and his parade will be a mere 90 minutes, "making it among the shortest on record," per a WashPost front-pager about his "workmanlike" inauguration.
Axios Sneak Peek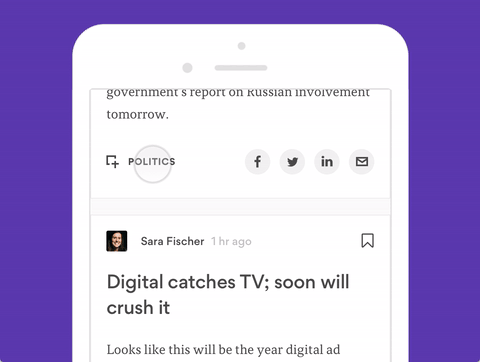 Dig deeper. With one touch, the most recent item on that topic appears without leaving your screen.
​2. Ryan on the line
House Speaker Paul Ryan told me in a phone interview yesterday that he wants to "have more conversations about" Trump's plan to confront drug companies over their pricing, forcing them to compete for government business. "I believe that the current premium support system with Part D works extremely well," Ryan said. "I think there's some real success stories … and I think we need to tell that story."

Including to the president-elect?
"A lot of people," Ryan replied. "I think [HHS nominee] Tom Price understands this issue extremely well."
Pressed about Trump's blast in Friday's WSJ interview that pharma companies are "politically protected, but not anymore," Ryan said: "I don't speak like that, generally speaking. I'm always looking for win-win situations, and I believe there's a lot more we can do to bring down the price of drugs."
I asked Ryan — who was calling from his district office in Janesville, Wis. — if he thinks that NATO is obsolete. Ryan said with a chuckle: "I'm sure he said something that you're trying to wedge me on right now." I replied: "No, he said NATO is 'obsolete.' It's not a trick."
Ryan replied: "Oh, I've been doing meetings with constituents all day. … I think NATO is indispensable and invaluable, and an enormously important contributor to world peace and stability. I think one of the issues that he's trying to get at, which I completely agree with, is people need to meet their [commitment to spend 2% of GDP on defense], and I think he's trying to give voice to that concern."
​3. Chaos or calculated confusion?
Republican heads are spinning. They are dumbfounded by a blizzard of mystifying or contradictory messages coming from Trump:

Calling for "coverage for everyone" as part of new health care law (something hugely expensive and beyond Obamacare's reach).
Telling the WSJ (lead story of today's paper, "Trump Warns On House Tax Plan") he's not a fan of border adjustments as part of tax reform — after his staff told Hill leaders he was.
Seemingly putting Russian leader Vladimir Putin and German Chancellor Merkel on par as U.S allies.
Calling NATO "obsolete," after some of his Cabinet picks argued otherwise; predicting the continued demise of the European Union; and providing fodder to EU haters by calling it "basically a vehicle for Germany."
The inside take: Republicans who are hoping/praying things will be fine, and even some Trump insiders, tell us that these comments show he is adjusting more slowly to being president-elect than they had hoped. Even if he believes some or all of this, some things are better kept to yourself when you're on the precipice of the presidency.
Also in today's WSJ story: "In his interview with the Journal on Friday, Mr. Trump said the U.S. dollar was already 'too strong' in part because China holds down its currency, the yuan. … Trump appears to be [!] breaking with a recent tradition of presidents refraining from comments on the dollar's level. The dollar is up 4% against a broad basket of currencies since he was elected, and roughly 25% since mid-2014."
A Message From Bank of America
Bank of America's Responsible Growth Strategy Is Making a Difference
At Bank of America, we have a responsibility to grow by improving our customers' financial lives and having a positive, lasting impact on our communities. We call this Responsible Growth and it's making a difference. From being the leader in clean energy financing to increasing our small business loans by 12% year over year, we are driving the economy in real and sustainable ways while creating value for our customers and our communities. Read more.
​4. Trump v. world
A Chinese state-media editorial says Trump showing "strategic arrogance" and China must prepare for a "head-on confrontation."

You should know: Most top Trump advisers want/welcome confrontation. But many Republicans fear he's needlessly provoking a dangerous showdown with the world's other superpower with his taunts about Taiwan.
Moving later today … "AP POLL-TRUMP-YOUNG AMERICANS — As Trump approaches his inauguration as president, young Americans have a deeply pessimistic view about his incoming administration, with young blacks, Latinos and Asian Americans particularly concerned about what's to come in the next four years."
​5. Top-ed
David Leonhardt is bound for the NYT's Most Popular list with a column crowning Obama "The Most Successful Democrat Since F.D.R." Bill Clinton's biggest legislative plans failed and he was beset by scandal. LBJ was driven from office. Leonhardt says Jon Chait is "brave" but right to argue in his new book, "Audacity," that Obama's legacy will endure: "His effect on the 'trajectory of America,' to use his benchmark, was certainly smaller than Roosevelt's, but is in the same league as Reagan's."

​6. Tight times in the states
Beyond the bubble, things aren't so rosy: "A recent Associated Press survey found that more than half of the states — 33 — are currently dealing with a budget shortfall or expect to confront one in the coming fiscal year. Experts say state economic growth has been slower than expected, with revenue in some places failing to meet projections or keep up with rising spending needs."
​7. Davos dope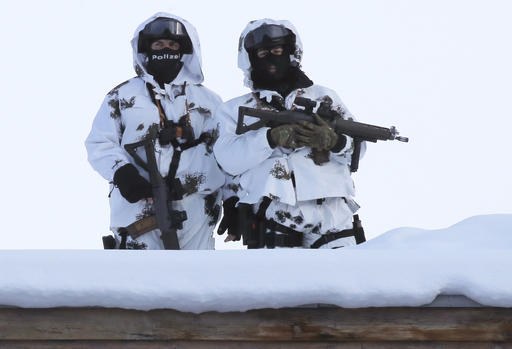 AP
BREAKING: Chinese President Xi Jinping presented himself as a champion of globalization today, lecturing the world elite in Davos on the dangers of protectionism and the futility of trade wars. AFP reports: "The leader of the world's second largest economy became the first Chinese president to address the World Economic Forum, where 3,000 well-heeled delegates … have gathered. … [Xi said:] 'It's true that economic globalisation has created new problems, but this is not justification to write off economic globalisation altogether.'"
Partly because the "Trump effect" made Davos radioactive, many top officials are shunning it: British Prime Minister Theresa May is the only leader expected from the Group of 7 industrialized democracies. Politico's Matthew Karnitschnig argues, in a piece cheekily datelined Berlin, that Davos was already losing mojo and cachet: "And with the global backlash against "elites" likely to intensify as we enter the age of Trump, Davos is the last place many elitists want to be seen."
Andrew Ross Sorkin "Dealbook" column from the Alps makes top of today's NYT front page, "Davos Glitter in the Gloom of Populism: Elites Grapple With Working-Class Rage": "Conversations about income inequality … have long had a tinge of class envy as opposed to a real appreciation for the basic jobs and wages that people are seeking."
​8. Trending in business
With Trump ratcheting up pressure on manufacturers, GM this week will announce plans to invest at least $1 billion in several U.S. factories, creating more than 1,000 new jobs. But GM general counsel Craig Glidden tells The Wall Street Journal that any new investments have been long planned and aren't a response to pressure from Trump.
Boeing CEO Dennis Muilenburg will meet with Trump today for the second time since the election to discuss the contract to build the next-generation version of Air Force One, Bloomberg scoops.
Dan Bartlett, Walmart executive vice president for corporate affairs, in Washington today to speak to winter meeting of the U.S. Conference of Mayors, announces plans to fund 34,000 additional jobs in 2017 (10,000 retail and 24,000 for construction of 59 new, expanded and relocated Walmarts and Sam's Clubs).
​9. Tops in tech
Front page of today's Mercury News, "The newspaper of Silicon Valley": "A typical down payment amount on a San Jose home is enough to buy a whole house in the rest of the country."

​10. 1 fun thing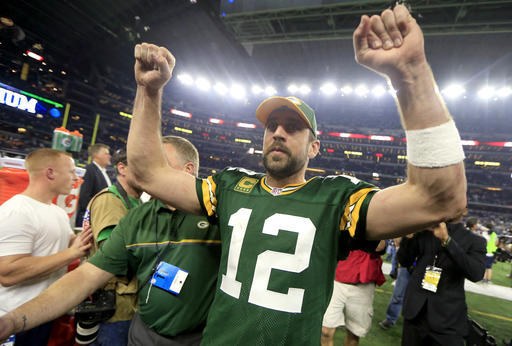 AP
Remember all the hand-wringing about fading NFL TV ratings? The Packers-Cowboys playoff game on Sunday drew an average of 48 million-plus — 8 million more than Game 7 of the Chicago Cubs first World Series win in a century, and almost 20 million more than Game 7 of the NBA championship. The audience for the Packer's last-second upset peaked at 62.4 million.
Patriots coach Bill Belichick says he's not on "SnapFace," so he doesn't care what the @steelers do on "InstantChat."
WHAT'D I MISS? Just reply to this email with your links, tips and rants. Thank you for reading.
A Message From Bank of America
Brian Moynihan, other Co-Chairs open World Economic Forum in Davos
The Co-Chairs of the World Economic Forum 2017 Annual Meeting met with reporters in Davos this morning to kick off this year's event. The leaders talked about what to expect over the next four days and shared their thoughts on Responsive and Responsible Leadership, the theme of this year's gathering. Bank of America CEO Brian Moynihan, one of this year's Co-Chairs, discussed the role that Bank of America and other banks are playing in driving the real economy and creating the conditions for sustainable growth.
Visit the World Economic Forum website for more.