Presented By Bank of America
Axios AM
By Mike Allen

·

Jan 09, 2017
Good morning — again; 11 days to President Trump. Welcome to the debut edition of Axios AM: Mike's Top 10, a pre-dawn quick read from Axios, our new media company covering the collision and convergence of business, tech, media and politics. We're pioneering some clever ways to bring you smarter, more efficient coverage.
Jim VandeHei, Roy Schwartz and I started building Axios after our nearly decade-long run at Politico, and we now have more than 50 colleagues getting ready for our big launch.
The WSJ this morning has some details on our plans, and Vanity Fair last week broke the news of two top political insiders (Tim Berry and Evan Ryan) joined as EVPs.
If you enjoy Axios AM, we hope you'll urge your friends, relatives and colleagues to sign up here so they can be part of the conversation. This is a beta version (come the 19th, every item in AM will be shareable and savable), so I'd love your suggestions, leaks and thoughts: mike@axios.com. I look forward to breakfast together each morning.
The 1 thing: Trump's battle plan
On the sixth floor of an unmarked federal office building in downtown D.C., the Trump transition team has built a Hollywood-worthy stage set so Cabinet nominees can practice confirmation hearings, which begin tomorrow and will dominate Washington's week.

A chandelier hangs above the wood-paneled rostrum. Photos of the real senators are tacked beneath the volunteers who play questioners during the "murder boards" — 30 so far, lasting a total of 70 hours, with an average of 120 questions apiece. Fake "Code Pink" demonstrators occasionally interrupt a "hearing."
Trump's nominees face an unusual hurdle: They don't just have to defend themselves — they'll be barraged with questions about their boss's tweets and campaign statements. The hearings are the highest profile chance Democrats have had to bash the president-elect, and they plan to take advantage.
People prepping the nominees tell me that the strategy is to answer the topic not the question, and let Trump fight his own fights. On the border wall, for example, nominees are coached to say they understand the role Congress has to play, "and we look forward to working with you."
The one absolute rule: Don't say anything bad about Trump.
Republicans are proudly "flooding the zone" — two hearings tomorrow and four on Wednesday, when coverage of Trump's news conference in New York will distract from the hearings. "You can't kill four people in one day," a transition team member said. Democrats can't stop the hurry-up hearings, but say they'll drag their feet when the nominees are ready for a floor vote.
​2. Food for thought
Candidate Trump was wildly unpredictable, often reckless and won bigly; Transition Trump has been wildly unpredictable, sometimes reckless, and done more than any POTUS-elect ever. So the early betting among Republicans on the Hill is he will be wildly unpredictable, episodically reckless and perhaps MORE successful in terms of legislative wins than Bush or Obama were with full party control of Washington.
​3. An announcement is coming…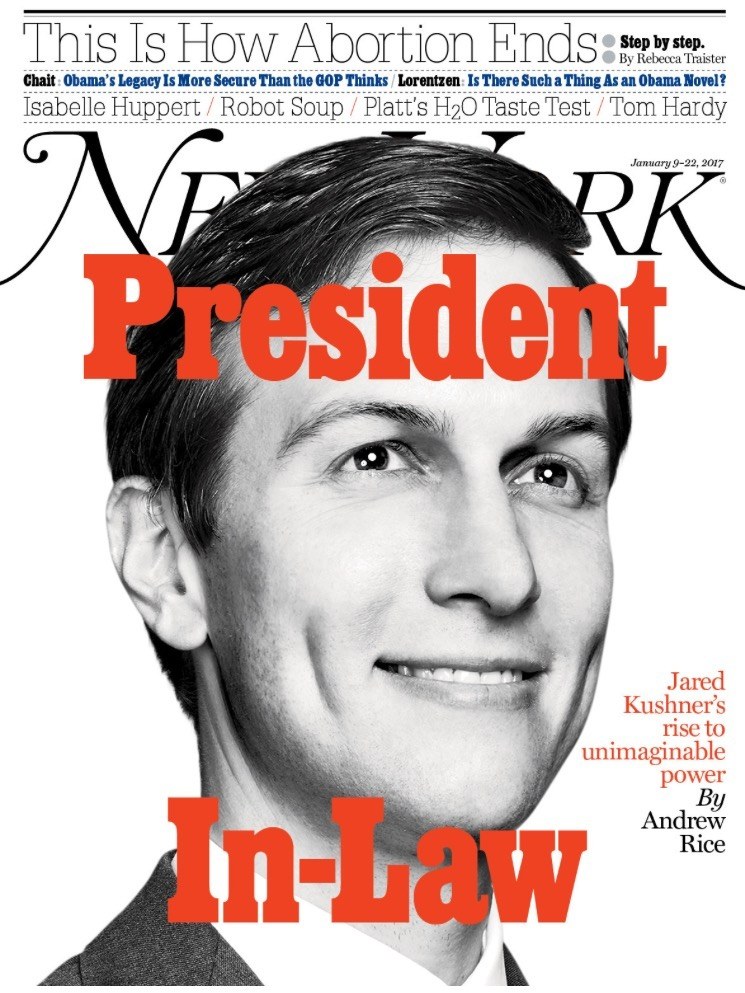 … that lawyers have worked out a way for Jared Kushner, who turns 36 tomorrow, to serve in the West Wing. He'll be named "senior adviser," and is already seeking applicants for his own staff.

Quick: Name a couple with more juice in a White House than Kushner and Ivanka Trump will have. You can't. And you can't overstate their power.
New York mag last night popped an eye-catching cover of Kushner as "President In-Law." The most interesting part of the article explores the tight alliance between Kushner and Steve Bannon, the intellectual architect of Trumpism: "Kushner found in Bannon a strategist just as disdainful as he was of the traditional campaign playbook. 'He threw the whole thing out,' Bannon says. 'That's why I bonded with him.''
A priceless passage: "Some of the same Manhattan liberals who ostracized [Kushner] during the campaign were rattled afterward, and they sent him emails, trying to offer healing words of congratulations and conciliation. These went right in the trash."
SOUND SMART: The Kushner/Bannon/Stephen Miller (head of policy) faction is building the intellectual architecture of Trump Nationalism — and it's certain to shake up the GOP as profoundly as '16 did.
A Message From Bank of America
Responsible Growth
At Bank of America, we have a responsibility to grow by improving the financial lives of our customers and having a positive, lasting impact on the communities we serve. We call this "Responsible Growth," and it means we are:
Driving the economy in real and sustainable ways
Helping create jobs, develop communities, foster economic mobility and address society's biggest challenges
Managing risk and providing a positive return to our customers, clients and our business
From being the leader in clean energy financing to increasing our small business loans by 12% year over year, we are growing responsibly and creating tangible value for the customers we serve and the communities we live in. To learn more, visit bankofamerica.com/responsiblegrowth.
​4. Trumpland
One of the changes Sean Spicer is contemplating for the daily White House briefing is using technology to include more outlets that aren't D.C.-based.
WSJ front-pages a four-byline feature on the Mercers: "Armed with data on an alienated electorate, a hedge-fund magnate and his family shun the GOP establishment to support the winning campaign; advising on cabinet selections."
​5. Facebook goes on the offensive …
… after stepping into two big, persistent controversies at the end of '16: fake news and faulty data. Zuckerberg is mobilizing: He hired Campbell Brown, former NBC News star, to head news partnerships. Watch for her to work closely with another former journalist, Anne Kornblut, who has emerged as one of the most important advisers to Sheryl Sandberg. And look for Facebook to add more communication talent soon.

I'm told the hiring of Brown (someone the industry knows and can give feedback to) is the leading edge of a plan by Facebook to develop stronger ties with publishers, with other announcements coming soon.
A Facebook official said: "We want to demonstrate that we want to be a strong partner to the news industry, a little more deliberately than we have in the past."
Elsewhere in media trends … Breitbart, hoping to capitalize on the attention that has come with Trump's election, this week will launch a financial vertical, including markets coverage and commentary. Contributors include Larry Kudlow.
​6. "The last party"
At 4 a.m. Saturday, 100 people were still hanging out at President Obama's farewell White House bash for alumni, celebrities (Springsteen, McCartney, Seinfeld, Paltrow, Wonder), donors — and random friends of the show like New Yorker editor David Remnick.
One former administration official's husband tried to pull her away at 2, just after the chicken and waffles had been brought out. But she said: "We can't leave. This is the end. This is it."
Dems say fewer people — especially the Hollywood crowd — would have made the trip if Hillary had won: "Now, we don't know when we'll be back."
Bill and Hillary Clinton got several rounds of applause on Broadway yesterday when they attended the last of 482 performances of "The Color Purple."
​7. Trending in business: Car talk
Notes from the Detroit Auto Show, which opens to the public next Saturday: Something many in Trump's cabinet can afford: Aston Martin and Lamborghini are planning electric models.

And for you potheads, past or present: Volkswagen will unveil its I.D. Microbus, a modern, battery-powered take on its '60s-era hippie van.
SOUND SMART: The Ford F-150 was best-selling vehicle for 35th straight year. The last time it wasn't top, Elon Musk was 10 and Zuckerberg wasn't alive.
Google's self-driving car — spun off as Waymo — hits the street this month. It's a Chrysler Pacifica Minivan.
​8. Tops in tech: Uber data
Uber yesterday released "Movement," an online portal for accessing anonymized data about more than 2 billion Uber trips -- at first, accessible for government officials and city planners; eventually, to the public.
Kia Kokalitcheva, a Silicon Valley reporter for Axios, emails: "This is a seemingly good (friendly) first step from Uber, but it could also be a way for the company to placate governments … while retaining control over what it divulges."
The WashPost, from India, looks at how Trump/Sessions plan to curtail H-1B, high-skilled labor visas could be a boon for India. Top tech execs tell us they fear Trump might restrict the program in first 100 days, and pressure them in other ways to hire and fund U.S. talent. They are right to think this …
​9. Out tomorrow: 2 hot books
Hugh Hewitt, the conservative radio host, banged out a post-election policy manual for Trump, "The Fourth Way" — "absorbing most of the traditional Reagan agenda … while adding an emphasis on improvements in infrastructure and modernized delivery of those parts of government that cannot be replaced by the private sector." Hewitt confesses: "I voted for him … but I was still certain he was doomed."
CFR President Richard Haass, warns in "World in Disarray": "[W]holesale, frequent reversals [in foreign policy] run the risk of unnerving friends and emboldening adversaries. Disarray at home is thus inextricably linked to disarray in the world. The two together are nothing short of toxic."
10. 1 fun thing: Trump calling
Trump, "early Monday morning … in a brief telephone interview" with the NYT, called Meryl Streep "a Hillary lover" after she gave a Golden Globes speech denouncing him. He said he's "not surprised" to be under attack from "liberal movie people." Full text of Streep.
WHAT'D I MISS? Drop me your rants, tips and links: mike@axios.com.
A Message From Bank of America
Our Business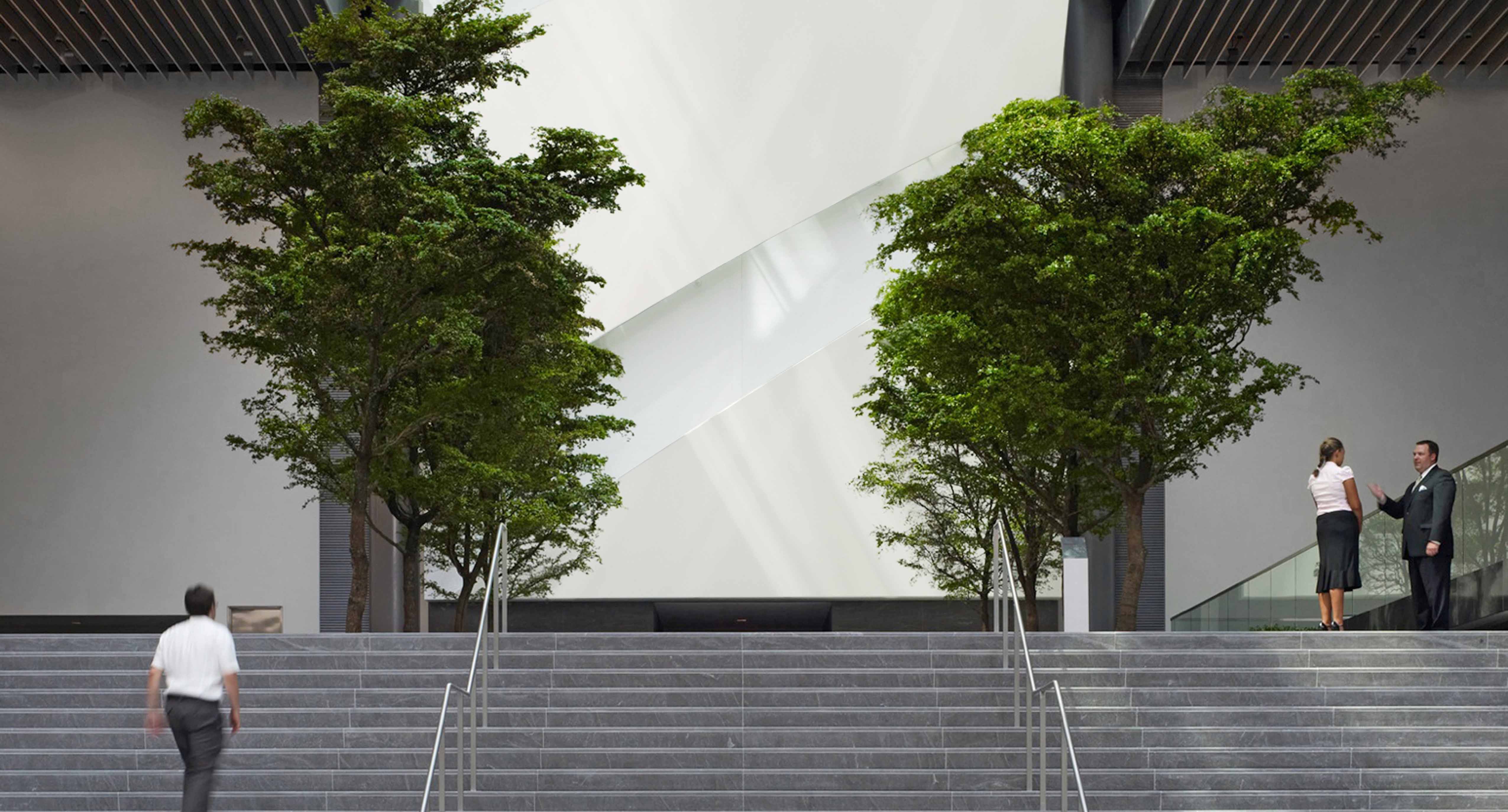 At Bank of America, responsible growth means we are focusing on advancing the work that contributes to real economic growth and prosperity – from simplifying mortgages to providing support for small businesses to financing large scale companies that drive state and national economies.
Key to growing responsibly are internal governing policies that ensure we are providing transparency in our products and business practices, and helping clients access the capital they need to achieve their goals without taking on unnecessary risk.
As a result:
Business loans are up 12% year over year
We've increased the number of Bank of America customers who secure a mortgage with us by 50%
Improved our strength and stability as a global financial institution
That's what responsible growth means for us and for the more than 50 million customers and communities we serve. To learn more, visit bankofamerica.com/responsiblegrowth.