Presented By Bank of America
Axios AM
By Mike Allen

·

Jan 14, 2017
Good Saturday morning — six days to President Trump, 22 days to Super Bowl 51 (in Houston). In a Wall Street Journal "Review" cover story on "The Legend of the First Hundred Days" (first applied to a special session of Congress called by FDR in 1933), historian Richard Brookhiser writes, for exhausted Rs or glum Dems: "Cheer up — after the first hundred days, there are only 1,361 left."
Thanks for reading this beta week of Axios AM: Mike's Top 10. Please ask a friend or co-worker to join us for breakfast, with this one-click link.
The 1 thing: Trump's new ways to rattle swamp
We hear that Trump loves the idea of Rep. Mark Meadows of North Carolina, who last month was elected chair of the hardline House Freedom Caucus, as head of the Office of Personnel Management, which is in charge of the federal workforce. Meadows, as a member of the House Oversight and Government Reform Committee, in 2015 called for then-OPM Director Katherine Archuleta to resign over a vast cyberbreach. She stepped down the next month.
Our thought bubble: The choice of Meadows would be a declaration of war on the bureaucracy — a mammoth new sign of how aggressive Trump plans to be in deconstructing Washington as we know it.
And for at least the third time, the Trump transition team is freaking out career government employees with questions about existing U.S. policy. This time it's a four-page questionnaire asking State Department officials about stolen U.S. funds, Chinese influence and other topics related to Africa. The NYT's Helene Cooper says the questionnaire indicates "an overall skepticism about the value of foreign aid."
The panic sound familiar? It is. Similar stories were leaked when Trump officials asked about people and policies involved in climate talks and for an accounting of women-related programs at State.
A Trump official tells me the team is simply gathering data to so they can formulate their plans. But safe to assume change is coming to all three areas.
2. Top talker
The WashPost Metro section leads with "Jewish country club split on accepting Obama," by Bill Turque: "Anger over the Obama administration's actions toward Israel has triggered a nasty fight at a predominantly Jewish country club [Woodmont, in Rockville] over whether to offer a membership to the president after he leaves office."
The inside take: Obama friends tell us that by process of elimination, Woodmont has a good chance of being Obama's country club of choice. His sherpa would be Morgan Stanley exec Tom Nides, formerly Obama's deputy SecState.
3. Every restaurant should have one of these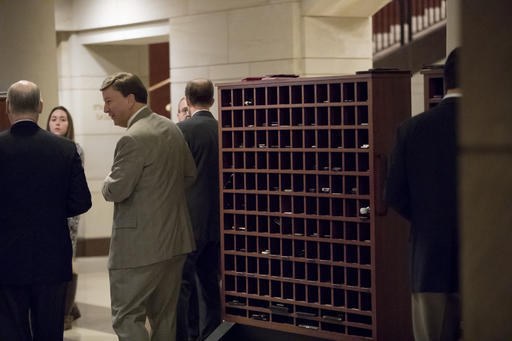 J. Scott Applewhite / AP
Members of Congress stow their cell phones and electronic devices before entering a closed-door intelligence briefing on Capitol Hill yesterday.

A Message From Bank of America
Environmental, Social and Governance
Bank of America has set Environmental, Social and Governance goals across our company to focus on responsible growth.
One example is our work financing the transition to a low-carbon economy. Clean energy financing is one of the fastest growing industries in the world and using innovative financing is the key to meeting our goals.
After achieving our initial goal four years ahead of schedule, we increased our environmental business commitment last year from $50 billion to $125 billion in low-carbon financing by 2025.
Investing in clean energy enables us to use our unique position as a global financial institution to create solutions.
To learn more, visit bankofamerica.com/responsiblegrowth.
4. Let's get ready to rumble
The Senate Intelligence Committee reverses itself and announces an investigation, including open and closed hearings and "subpoenas if necessary," into Russian involvement in the the election.
Chairman Richard Burr (R-N.C.) and Vice Chairman Mark Warner (D-Va.), say in a joint statement that the intelligence community has agreed to cooperate, "and we have every reason to believe that commitment will be honored by the incoming administration."
New threshold for anti-Trump one-upmanship: Rep. John Lewis of Georgia tells Chuck Todd for tomorrow's "Meet the Press": "I don't see this president-elect as a legitimate president."
Trump tweeted back this morning: "Congressman John Lewis should spend more time on fixing and helping his district, which is in horrible shape and falling apart (not to … mention crime infested) rather than falsely complaining about the election results. All talk, talk, talk - no action or results. Sad!"
​5. Catnip for Trump Tower
An Agence France-Presse preview of next week's elite gathering in Switzerland (Drudge banner: "NEW ORDER: CHINA TAKES DAVOS") reports that China's president Xi Jinping "will preach the advent of a new world order" to replace the old "rules-based global order led by Washington." In his keynote on Tuesday, Xi will "extol Beijing's efforts to negotiate new types of regional trade deals shorn of US influence."

Trump won't send a rep to Davos, Bloomberg reports.
Scary stat: Another key theme of Davos this year, per AFP, is "how white-collar workers could be next in the firing line, after their factory brethren, given the rapid evolution of artificial intelligence."
A new report from McKinsey Global Institute report quantifies the threat: We estimate that about half of all the activities people are paid to do in the world's workforce could potentially be automated by adapting currently demonstrated technologies. That amounts to almost $16 trillion in wages.
​6. Trump's reset button
In an hourlong interview with the Wall Street Journal, Trump says he would keep Obama-imposed sanctions against Russia "at least for a period of time," but suggested he might do away with them if the nation proves helpful in battling terrorists and reaching other goals important to the U.S."

Trump told the paper: "If you get along and if Russia is really helping us, why would anybody have sanctions if somebody's doing some really great things?"
​7. Zuck's political future
Vanity Fair's well-wired Nick Bilton dives into rising buzz about Facebook founder Mark Zuckerberg, 32, eventually running for president: "When I've asked people in Silicon Valley if a Zuckerberg bid is potentially real, the consensus seems to be: absolutely."

"One person" (awesome attribution) is quoted as saying: "He's been incredibly careful about cultivating a specific type of persona over the past few years." Bilton points out that as the sixth richest person in the world, "He wants something bigger. Something that gives him more impact and influence on the planet."
The juiciest attack line for an opponent: Privacy.
The inside take: Zuck is focused for now on further solidifying Facebook as the operating system for our lives, and building his philanthropic Chan Zuckerberg Initiative with his wife, Priscilla Chan (issues include the long-term search for cures) His personal discipline (setting a new year's resolution of learning Mandarin, then actually doing it), formal and informal cabinet of political pros, and aspiration to connect the world are all good for business — but also paint a choice narrative for a future bid.
​8. Trending in tech
Amazon hints in government filings this week that is is developing a new type of technology or wireless service, perhaps to control the company's drones. Business Insider, which has Jeff Bezos as an investor, says Amazon is "preparing to test experimental wireless communications technology, including mobile devices and fixed-base stations, in rural Washington and Seattle."
The WSJ has internal documents from Elon Musk's private SpaceX showing a loss in 2015, but hopes by the aerospace pioneer that a planned satellite-internet business will finance eventual Mars missions.
Key stat: Musk projects that by 2019, SpaceX will launch 52 rockets — one a week.
​9. Tops in business
Banks killing it under Trump: Shares of J.P. Morgan, Bank of America and Wells Fargo are all up more than 20% since Trump's win. The top story of the Financial Times print edition is "Banks cash in on Trump transition," noting that Goldman Sachs veterans are poised to hold at least five top jobs in the administration.

​10. 2 fun things
@Neil_Irwin: "Bezos apparently bought a $23m house in DC. As a share of his net worth, that's the equivalent of somebody worth $500k spending $167."

The Wilderness: "Not Quite a Victory Tour. But … "
When we look back at 2017, one of the wacky year-end trends for 2017 will be Hillary Clinton sightings. On the cover of tomorrow's NYT Sunday Styles ("Wait. Is that Hillary Clinton? Let's Go Say Hi"), Laura Holson writes: "Many people might have expected Mrs. Clinton to hole up in her Westchester County compound for months … New Yorkers … have embraced her as a battle-scarred heroine, and seem to want to help the former Democratic presidential candidate get over her election blues." Or at least get a selfie.
The article embeds a funny Instagram post by Laura Brown, editor-in-chief of InStyle: "Hillary Clinton was next to me at dinner tonight. She was eating burgers with Ralph Lauren at the Polo Bar. Big, juicy, fantastic burgers. And wine, and chocolate sundaes. I profiled her five years ago. When she was leaving, I jumped up and hugged her." A text selfie — a text!
WHAT'D I MISS? Shoot me your links, tips and rants. And happy weekend!
A Message From Bank of America
Responsible Growth
At Bank of America, we have a responsibility to grow by improving our customers' financial lives and having a positive, lasting impact on our communities. We call this "Responsible Growth," and it means we are:
Driving the economy in real and sustainable ways
Helping create jobs, develop communities, foster economic mobility and address society's biggest challenges
Managing risk and providing a positive return to our customers, clients and our business
From being the leader in clean energy financing to increasing our small business loans by 12% year over year, we are growing responsibly and creating tangible value for our customers and for our communities. To learn more, visit bankofamerica.com/responsiblegrowth.